Writing a formal letter to the bank manager can be a daunting task, but it's an essential skill to have, especially when you need to address important banking matters or make inquiries. In this article, we will explore different formats and provide samples to help you craft an effective letter that grabs the bank manager's attention. Whether you're requesting a loan, lodging a complaint, or seeking clarification on a banking procedure, we've got you covered. So, let's get started to know how to effectively write a formal letter to bank manager.
Why is it Important to Write a Formal letter to the Bank Manager?
Formal letters are a crucial means of communication in the business world, and they hold particular significance when it comes to banking matters. Writing a formal letter to the bank manager shows that you value their time and professionalism. It helps convey your message clearly and establishes a professional tone, which can significantly impact the response you receive. Banks receive numerous letters daily, and writing a well-structured and professional letter can increase the chances of your concerns being addressed promptly and effectively.
Understanding the Purpose of Your Letter
It is important to clearly understand the purpose of your formal letter to the bank manager. Whether you are writing to bank manager for:
Loan Application Request
Issuing a ATM Card
Unauthorized transaction
Account Closure Request
Identifying the purpose of the letter will help you structure your letter appropriately. Take some time to reflect on what you hope to achieve with your letter and gather any supporting documentation or information you might need.
Also Read: Sample Cover Letters for an Internship
Key Elements of a Formal Letter to the Bank Manager
Before we talk about the specific formats and samples, let us first understand the essential elements that constitute a formal letter to the bank manager. It is important to have a strong basis for any successful communication, and the same applies to your letter. Here are the key elements that one needs to keep in mind:
Sender's Information: Include your full name, address, contact number, and email address at the top of the letter. This information helps the bank manager identify you and respond appropriately.
Date: Below your information, include the current date. This is important for record-keeping purposes.
Bank Manager's Information: Below the date, provide the bank manager's name, designation, and the bank's address.
Salutation: Begin your letter with a respectful salutation, addressing the bank manager by their appropriate title, such as "Dear Mr./Ms. [Manager's Last Name]." Remember, a courteous and professional tone sets the stage for effective communication.
Introduction: Introduce yourself and state the purpose of your letter in a clear and concise manner. Whether you are addressing an issue, making a request, or offering feedback, briefly outline the reason behind your correspondence.
Body: This is the heart of your letter, where you delve into the details of your concern or request. Provide any necessary background information, supporting evidence, or relevant facts to strengthen your case. Be specific, articulate, and organized in your approach.
Conclusion: Conclude your letter by summarizing the key points and reiterating your request or desired resolution. Express gratitude for the recipient's time and consideration, and provide your contact information should they require further clarification.
Format of Application Letter to Bank Manager
Salutation: Begin the letter with a formal salutation, such as "Dear [Bank Manager's Full Name]."
Introduction: State the purpose of the letter, clearly indicating that whether you are applying for a loan, or request to issue an ATM card, closure of account.
Personal Details: Provide essential personal or business information, such as your name, contact details, and relevant bank details.
Supporting Documents: Attach any supporting documents required by the bank, such as bank passbook, photo ID, tax returns, or any other documents pertaining to the particular type of letter.
Conclusion: Express your gratitude for the bank manager's consideration.
Closing: Use a formal closing phrase such as "Yours sincerely" or "Yours faithfully" followed by your full name and contact information.
Types and Samples of Formal Letter to Bank Manager
We have listed some of the most frequent types of bank application letter format for your convenience. If you need to avail/clarification of any specific bank service, you can use the same to write a formal letter to bank manager.
1. Formal Letter to Bank Manager for Loan Request
When individuals or businesses require financial assistance from a bank, they must submit a loan application letter. This formal letter provides a comprehensive overview of the borrower's financial position, the purpose of the loan, and the proposed repayment plan. It helps the bank manager evaluate the applicant's eligibility and assess the risk associated with granting the loan.
Sample Letter for Loan Application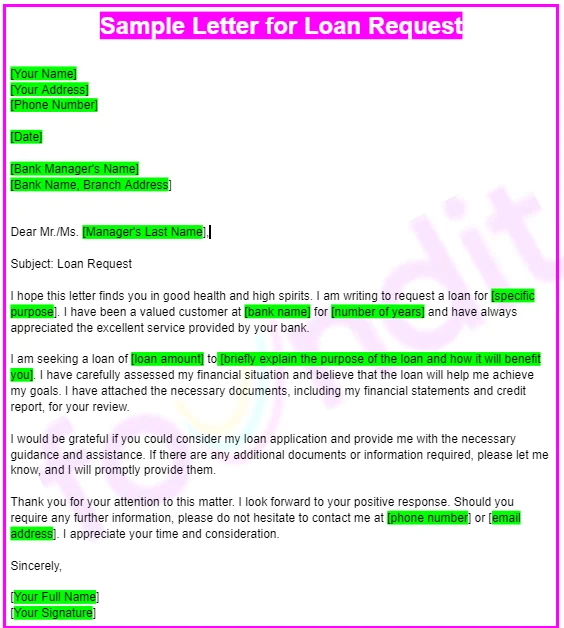 2. Formal Letter to Bank Manager for ATM card issuance
ATM cards are the most elementary requirement to handle your daily transactions without walking a lot to your concerned bank. It's straightforward to demand a replacement ATM card lately once you open an account with any bank. However, writing down an application letter is required if you've got an open checking account but don't have an ATM card to withdraw the cash. Here is the sample of the application letter regarding issuing an ATM card.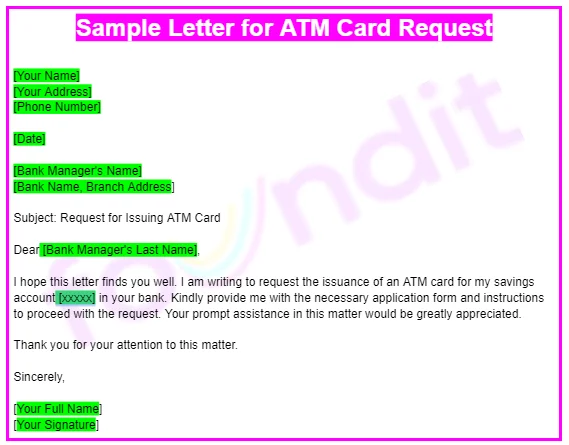 3. Formal Complaint Letter to Bank Manager
A complaint letter is a formal communication addressed to a person or organization expressing dissatisfaction regarding a particular issue. When it comes to banking matters, a complaint letter to the bank manager can be an effective way to seek resolution and highlight concerns. Below we have provided a sample of complaint letter to the bank manager regarding unauthorized transactions on the customer's account.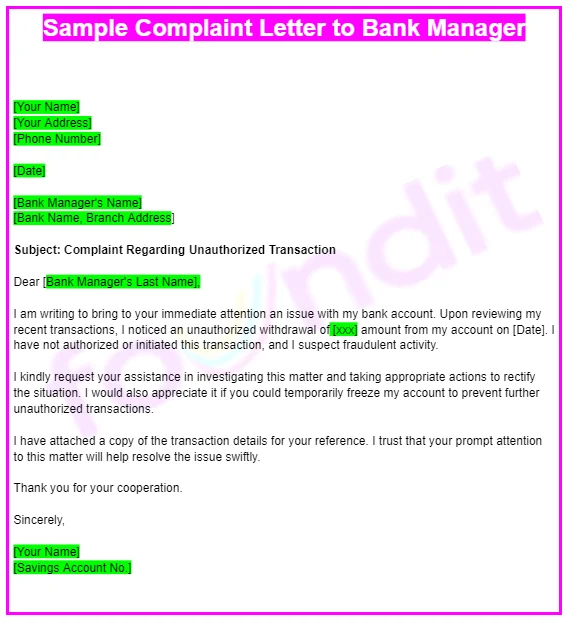 Also Read: Best Resignation Letter Examples
4. Formal Letter to Bank Manager for Account Closure
Closing a bank account is a significant decision that requires careful consideration and proper communication. Writing a formal letter to the bank manager for account closure ensures a smooth process and maintains a professional relationship with the bank. Here is the sample letter for the account closure request.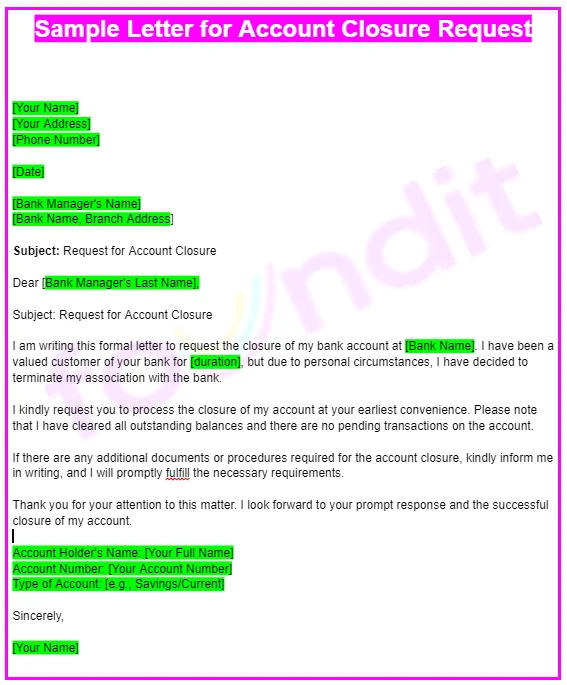 Also Read: 12 CV Cover Letter Examples
Conclusion
Writing a formal letter to the bank manager is a skill that can greatly benefit you when dealing with important banking matters. By following the suggested format and utilizing the provided samples, you can create a well-structured letter that increases the likelihood of a favorable response. It is important to be clear, concise, and professional in your communication, and always attach any necessary supporting documents. With these tips and samples at your disposal, you're now ready to confidently compose a formal letter to the bank manager that grabs attention and gets favorable results.
FAQs on Writing a Formal Letter to Bank Manager
Q1. What is a letter to bank manager?
Ans: A letter to a bank manager is a formal written communication addressed to the manager of a bank. It is usually written by a customer or account holder to convey a specific request, raise a concern, or provide information related to their banking relationship.
Q2. What are the important details to be added in the application letter to bank manager?
Ans: The important details to be included in the letter to bank manager are given below.
1. Your personal information (name, address, contact details).
2. Purpose of the application (e.g., account opening, loan request, address change).
3. Specific details about the request (account type, loan amount, relevant dates).
4. Supporting documents (attach necessary identification, proof of address, financial statements).
5. Any additional information or context relevant to the request.

Q3. How to begin and close a formal letter to bank manager?
Ans: Samples of opening and closing salutation are provided below.
Beginning a Formal Letter to Bank Manager:
Dear [Bank Manager's Name], or Dear Sir/Madam,

Closing a Formal Letter to Bank Manager:
Thank you for your attention to this matter.
Yours sincerely, [Your Name]
Q4. What are different types of letter to bank manager?
Ans: The different kinds of letter to bank manager are:
1. Request Letter
2. Complaint Letter
3. Account Closure Letter
4. Loan Application Letter

Q5. Can I use a formal letter format for personal banking matters?
Ans: While formal letter formats are typically used for official or business-related banking matters, you can also use them for certain personal banking matters. For example, if you're disputing a transaction or requesting a change in account details, a formal letter can help convey your concerns effectively.